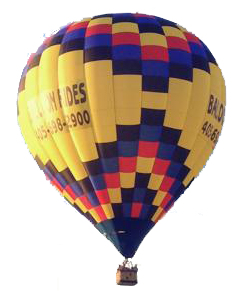 Weekday Rides
(shared basket)
Single Passenger

$295

 2 or MORE (per person)

$250
Weekend Rides
(shared basket)
Single Passenger

$315

 2 or MORE (per person)

$275
Private Rides
(basket for 2)
(SHARED is defined as, up to 7 people in the basket)
Call or Contact Today To Schedule Your Flight And Create A Lasting Memory
How long do Balloon Flights Last?
The whole experience lasts 2.5 – 3.5 hours including pre-flight preparations, flight, and post flight pack-up and celebration.  The actual in the air flight time is approximately 1 hour.
How fast do Balloons Fly?
Because balloons are at the mercy of the wind, we travel at the speed of the wind which is generally 7-12 mph.
Is there a minimum age requirement for flying?
We have no minimum  age, but we do require our passengers to be 48 inches tall so they can see over the side of the basket without assistance.
What should I wear?
The attire for ballooning is casual.  Dress appropriate for the outside air temperature.  We recommend pants, tennis shoes, open toed shoes and high heels are not permitted. Please remember the balloon takes off and lands in open fields.
When do you fly?
We generally fly either early morning or late evening when the winds are more favorable for flying.
Do I have to take off work to do a "weekday" flight?
The short answer is…NO. You do not have to take the day off, unless you are planning on making it a part of a whole days activities.
 Flights are generally done during the sunrise and sunset hours. Partially because of optimum flying conditions but also…It's just simply beautiful!!!
Chances are, you might miss an hour or so of work; either at the beginning of the day or at the end.
What can I expect when booking a Flight?
Each passenger will be required to sign a waiver release before boarding.
50% deposit will be required at the time of purchase, the additional 50% will be due at the end of the flight.
If this flight is being purchased by a third party who will no be there at the time of the flight 100% is due at the time of booking the flight.
When you book your flight, you can request a specific date or series of dates.  Oklahoma does not have the lightest of winds so when booking a date it is suggested to allow for a couple day window around that date in which to receive your flight.  If you are not able to fulfill your ride on the day or days around your requested dates, you will be put into a general list and flown at our earliest convenience.
When purchasing a ride from OKC Balloons Aloft, you must understand that this is a weather permitting sport, and we require certain conditions to fulfill the flights.  Once the flight has been purchased there are no refunds, but your gift certificates are good for as long as it takes to get you flown.
OKC Balloons Aloft will strive to give customers as much notice to upcoming flights, sometimes we can book flights with 48 hours notice.  Most of the time it is less than 24 hours notice.  We realize than not everyone is going to be available at that short of notice, so we will keep trying until the customer gets their flight.
(Due to safety, we can not guarantee specific dates, as weather conditions can alter flight plans.)
Why don't you take 3rd-party certificates?
We believe highly in "total customer satisfaction." Most of the companies that offer certificates from these sites aren't even in our state and are not, in any way, affiliated with the companies of which they are trying to sell you flight certificates for. They sell undercut pricing on certificates that you'll be hard-pressed to find a flight company that will honor them; leaving you out of pocket and generally mad at the flight company and not them. They are, basically, a scam.
I keep seeing the term "flight certificate." What does this mean?
A flight certificate is much like a gift certificate, except that is how all flights are purchased. What is gives you is a full year to take your flight. The type of certificate purchased determines what kind of flight you'll take (i.e – weekday, weekend, private, shared, etc.). Because not every day is good for flying, we cannot guarantee a particular date. We use the certificates as a boarding pass for your flight when the next one is available.